Craps is one of the most exciting casino games out there. A lot of people think it is complicated. Unfortunately the overwhelming table layout does not help either. But trust me it is not hard. In fact, the game is so simple that it can easily become addicting.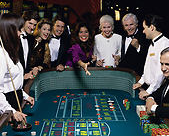 If you are someone who does not know how to play this game, then don't worry. We already have a "how to play craps and win" guide prepared for you. It is very newbie friendly, and it takes you through the game step by step. That said, no matter how many guides you read, you won't understand the actual game unless you practice. Just like everything else in life, the key to mastery is practice. There are a some available opportunities (both in the virtual and real world) that you can use for gaining experience and practicing craps:
Free Craps Lessons

Usually in all the casinos they offer free lessons on how to play craps. In fact, if you are in Las Vegas, just go to your casino's website, and you will be able to find the different classes they offer for free or you can call their concierge. They will teach you everything from cracking the table layout, to placing bets. They will even teach you different strategies you can use to win this game.

Learn How to Play Craps Playing Free Craps Online

In the virtual world, you will find many websites that will let you play the game of craps for free. If you have a computer, then you can enjoy this game from the comfort of your home. Majority of the websites will give you virtual money to play with. You can use this money to place bets. Playing with virtual money is a great way to get some experience without risking any cash. You can even try out all the different bets and strategies – check which one you like the most or which one is the one that offers most advantage.
Some online casinos allow you to play with real money. I would not recommend this route until you get some experience, and you know what you are doing. If you haven't played craps for real money yet, here are some tips that may help you:
Know all the rules of craps – If you don't, you are not ready!
Choose a target – Choose a target amount of cash that you want to win. Once you get that amount, take it and leave. Remember, it just takes a throw of dice to lose all that money.
Set a limit – Set a limit as to how much money you are willing to lose. Make sure that you pick a realistic amount. Once you reach your limit, leave the table. This can be a very addicting game, so don't let yourself get too carried away.
Many online casinos offer sign up bonuses when players make their first deposit. Some casinos even offer free bonus just for signing up no deposit required. Unfortunately majority of these bonuses do not allow wagering on craps due to its low casino advantage. But there are some that allow craps wagering for free bonuses and you can find them on CrapsVerdict. So those of you who think you are ready for some serious action, this is the way to go. Whatever you do, make sure to practice. That is the road to success and great way to learn how to play craps and win.