You can make yourself to look for an internet casino among hundreds of online casinos, many of them with really bad support and payout problems, to try to find out which may be the best casino where you can play online craps. Or you can rely on us, because we have compiled a selection of the best online casinos where you can play the best online craps with the lowest possible casino advantage. The first step when you want to play craps online, is relatively simple and straightforward.
You just have to register at internet casino and open a new player account. (If you already have gambled online or played online poker then the procedure is pretty much the same). If you want to play craps for real money you have to create real money casino account and register including all personal details just as address or phone number. If you want to play free craps you just register with your name and email and then later if you decide to play for real money you can add your personal details and complete real money account registration. Then just log into the casino software or instant play casino version and select the game of craps (it is usually located under the table games or specialty games). Some online casinos even let players play craps with no registration required.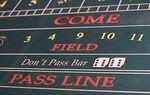 As you can see you may need to download the free casino software or have on many casinos online  the opportunity to play online craps using flash instant play version of the casino lobby, with no download required. You will be able to choose from one or more online craps games and see how many players are available at every table if casino supports multi-player craps. If multi-player is enable then choose the table where most of the players sit or play with friends or alone. In craps online there can be many options and possibilities. Unfortunately live dealer craps is still to come to online casinos.
When the game of craps (online or at live casinos) starts each player at the table is asked to place his/hers bet – on the come out roll it's the pass line or don't pass bet. This is done online comfortably with the help of computer mouse, you will then have several options. You can choose the amount of the bet you want to place as well as which of the craps bets to place. When all the bets are placed, the player selects to roll the dice – this player is called shooter. Most online casinos do not offer multi-player craps so only one player can play the game at one table and this player is also the shooter. When you play multi-player craps this position (shooter) changes when a player loses his bet. Then it is the next player's turn to roll the dice.
If you win when playing craps online, you get your money automatically credited to your real money account. You can place even more bets if the table is hot (if number 7 is not rolled for a long time and you have many bets on points – numbers working). However, before you play craps online for the first time, you should keep a craps game instructions to heart. Without the knowledge of the craps game rules, your chances to win money, are unnecessarily low. And with perfect craps strategy you can keep the casino house advantage very low and thus increase your chances of winning.